Search Engine Optimization and Professional SEO Services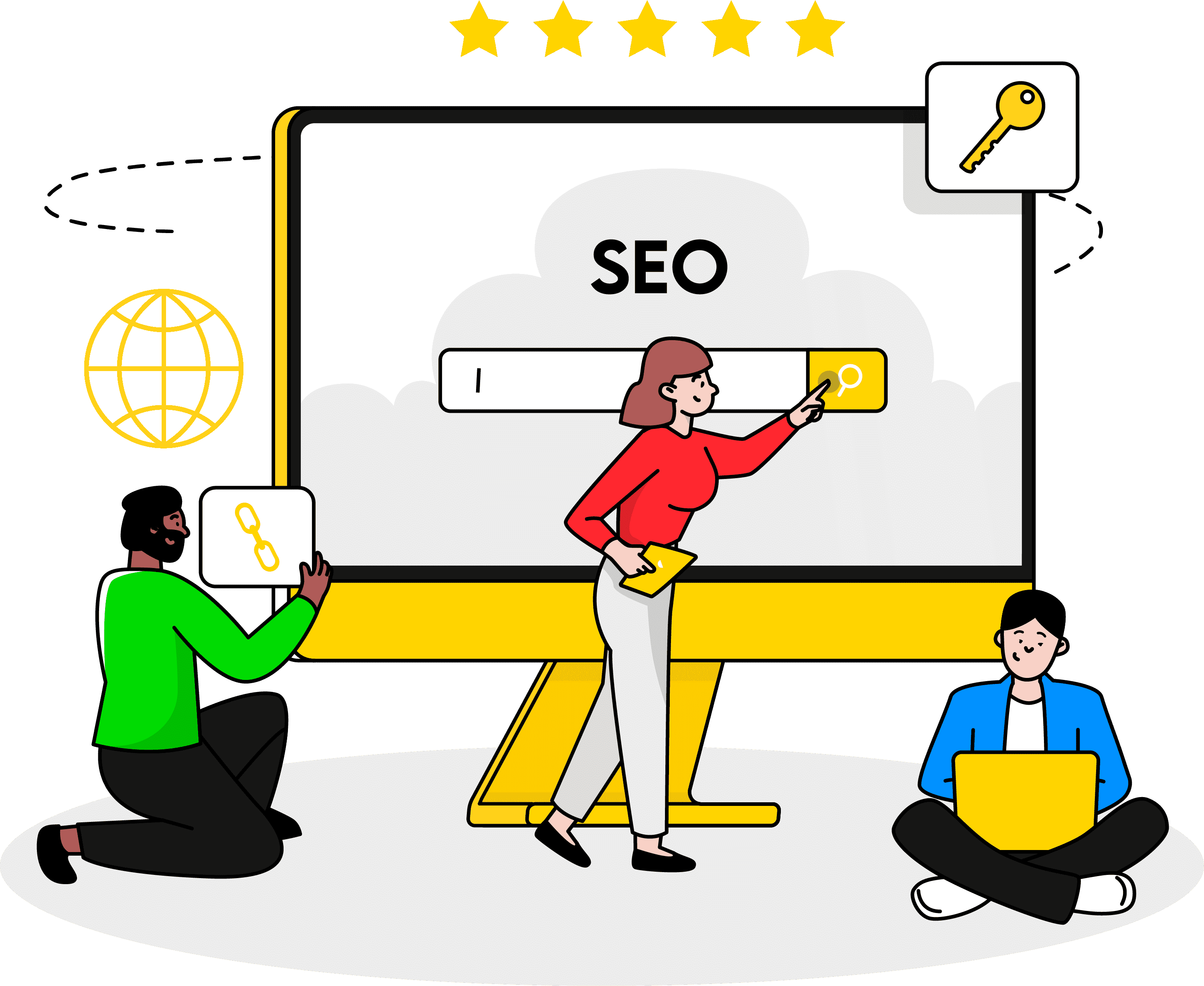 What is Search Engine Optimization (SEO)?
Put simply: SEO helps your website rank in the top results on search engines like Google, Bing and Amazon.
How your website ranks is critical because the higher you rank the more traffic you will gain, and this can ultimately lead to more business.
Since most people don't look beyond the first page of search results, you should do everything possible to ensure your business appears within the top 10 results on page one. In today's highly competitive digital landscape, you'll need the best professional SEO services available to you. You'll need KEOCH.
KEOCH's current and previous campaigns have increased traffic to websites by up to 1,000 times (no joke).
Just one of the many companies we work with saw an average increase in the number of valuable leads from five per month to over five hundred per month – within the first year of working with us!
But it doesn't stop there. As a full-service business growth solution, KEOCH can help you identify business opportunities and take advantage of them. SEO services are just one of the many and most secure ways KEOCH can ensure an increase in traffic to your website and a subsequent return on investment for your company.
How does Google rank websites?
Google's rankings are based on a series of algorithms known only to Google, but many of the criteria are evident from the way today's websites are ranked, otherwise known as ranking factors.
Koech SEO services address them all.
Did you know: Long-tail keywords
Long-tail keywords: Are lengthier, more specific phrases or mix of words that web users are more likely to use when they're closer to making a purchasing decision (or using voice search).
For example: A person searching for "shoes" is usually less likely to be making a purchase than someone searching for " size 9 women's Nike running shoes."
Longer search queries are often more expensive in Google Ads, so it can be valuable to optimize for these queries organically.
The need for effective Professional SEO Services that work
Did you know that more than 5 billion searches are entered into Google every day?
Most people don't scroll past page one when they're looking for a product, service or information, so the higher you rank, the better your business will do.
That's where KEOCH comes in.
KEOCH Professional SEO Services
The first thing we'll do is perform an audit of your website and identify any issues that may be affecting the ranking of your site. Then we'll develop solutions to address them.
Improving your rankings in organic search results can take time. To achieve results as rapidly as possible, we address the issues by the degree of impact they're having on your rankings.
Our specialists are well-versed in the ins and outs of SEO. It can be detail-oriented and time-consuming work, but we love to do it!
Our SEO services can be broken down into four primary focus areas:
Ensuring that your website works correctly is the foundation of every good SEO campaign. From the coding structure of your webpages to an audit of any errors and the speed of your site, we'll ascertain what needs to be fixed and make the necessary repairs.
On-Page Content and Keyword Optimization
We'll make sure the written copy, text, images and pages on your website are fully optimized with the most relevant words and keywords in your industry, category, or business area. Our expert copywriters, artificial intelligence and proprietary algorithms deliver maximum results. We'll identify any page gaps and build-out new pages and content accordingly. If your website would benefit from a regular blog, we can even write that too! As the market changes, we will keep updating your content so it stays optimized and relevant.
The more high quality, engaging and relevant content that your website contains to attract visitors, the better! Content that is designed to help people, often before they're ready to make a purchase, can help establish trust and brand recognition. This type of content marketing is often entertaining, educational and welcomed by potential customers, as they don't feel like they're being sold too. It's called inbound marketing, and we can create this too! The more relevant and effective the content, the more engagement we can generate, and the signals this sends to search engines is important when it comes to search engine rankings.
Link Building and Link Optimization
A link (or hyperlink) is a way for web users to navigate between pages on the internet. Not only are links important for humans, but search engine web-crawlers use these links to map the internet. The quality of the websites that link to your pages is important, and the words used in the link (or anchor text) helps search engines understand what your content is about, as well as how to rank it in search results. The more high ranking websites that point to yours the better.
A Simple Guide to Professional SEO Services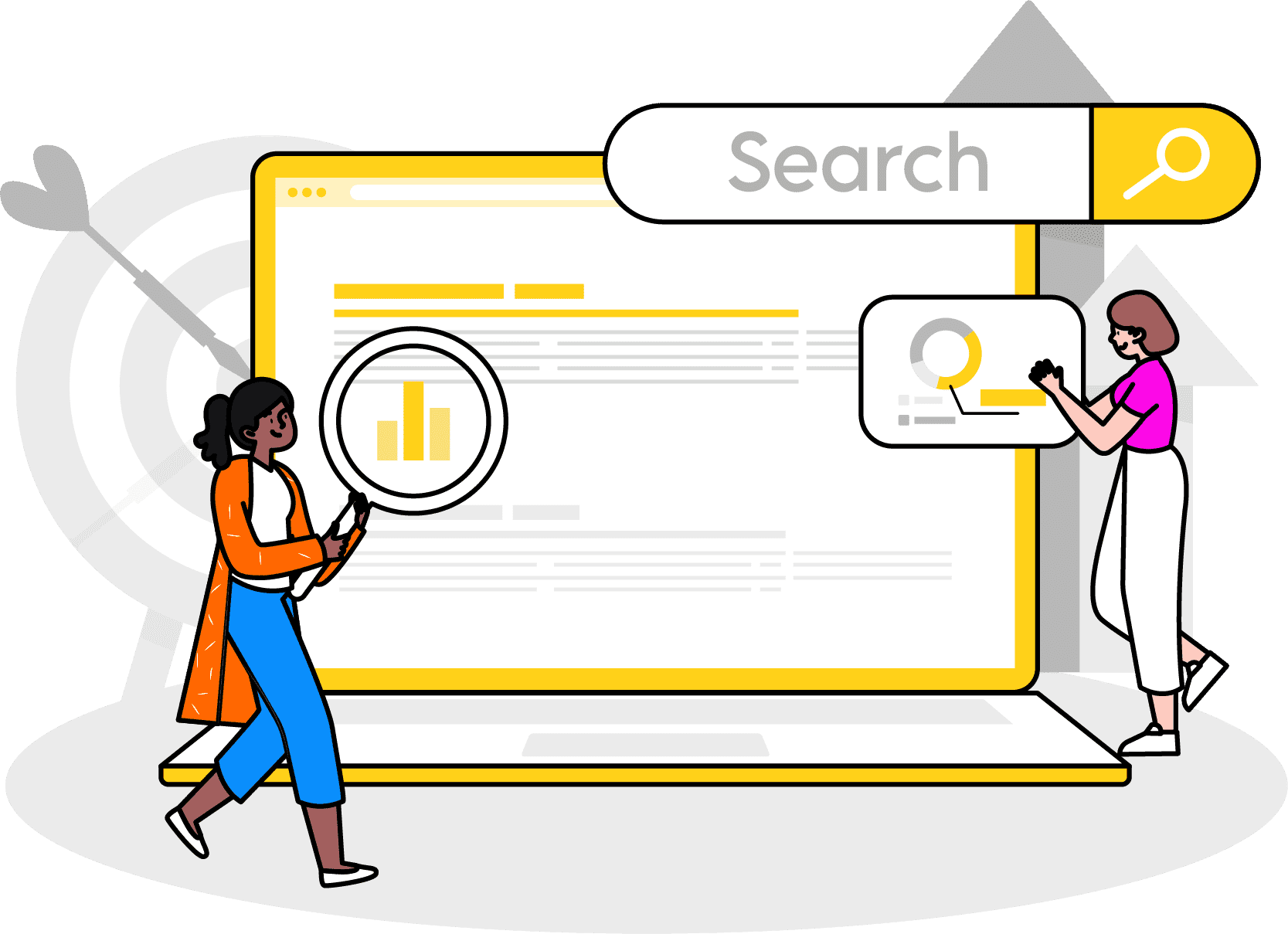 Speed Up Your Website Load Times
It's vital for your website to load fast, not just on desktop machines, but on all devices, especially mobile Android smartphones and iPhones.
We'll check the load times of your site and implement any necessary changes to ensure your website loads fast on all devices – desktop computers, tablets, and phones.
Technical SEO Services
We'll audit your website, diagnose and fix any errors or technical SEO issues that may be preventing it from ranking higher in search engine results. Our manual and automated technical auditing process can identify anything that may be impacting your website, including:
HTTPS Security Errors
Site Indexing Issues
No XML Sitemaps
Missing or Incorrect Robots.txt
Meta Robots NOINDEX Set
Slow Page Speed
Incorrect Rel=Canonical
Duplicate Content
Missing Alt Tags
Broken Links
Broken Pages
Mobile Optimization
Missing Meta Descriptions
And more…
Technical SEO is the foundation on which everything else SEO is built. Once we begin optimizing your site it will begin to rank higher in organic search results. As a result, you'll get more traffic, leads, and sales at no additional cost whatsoever.
On-Page Content and Keyword Optimization
We'll do a keyword analysis of the copy and words on your pages and in your metadata. Then we'll get to work optimizing them.
You can expect your website content to:
Be unique, featuring high-quality, high-performing content

Unlike some larger companies, KEOCH doesn't have a one-size-fits-all approach to SEO. Your website copy will be completely handcrafted with a powerful and effective blend of the right keywords. We also use state-of-the-art algorithms to craft content that is guaranteed to deliver results.

Engage with potential new customers

Our SEO work will drive high-quality, relevant traffic to your website, and our high performing content will keep visitors there. Every piece of information will be crafted perfectly for its intended purpose with the right blend of content that speaks to humans and search engines.

Be shareable

Creating content that people love to read is the best way to get re-shares. We won't slow down your website with pages that don't add value to your site or your customers' experience.
Google's algorithms to determine website rankings are complex. But a website with high-quality content that engages users is one of the most important factors in helping a webpage to climb higher and higher. The further up the results your site ranks, the more traffic it will get. The more people who visit your page and the longer they stay there, the more likely you are to convert a potential lead into a customer!
Content Marketing
Content Marketing isn't just about your brand, your products or your services. It's about your customers, clients and audience. What do they care about? Unlike pushy sales collateral or copy, content marketing includes things like:
Educational Articles
E-Books
Videos
Webinars
Newsletters
Blogs
These types of content can help to establish your business as a credible, authoritative resource on topics that matter most to your current and potential customers. It's an opportunity to provide them with something that continues to establish your brand as unique, building loyalty, engagement and trust to maintain an active database of clients and consumers. Content marketing takes a lot of persistence, patience and work, but the results can be tremendous!
Link Building and Link Optimization
KEOCH link building services begin with a link audit. This involves a review of your the links between pages within your own website (internal links) and the links to and from your website to other websites (external links).
This process helps to assure search engines like Google and Bing that your website is functioning optimally, and instructs them which pages to point users to when it comes to your keywords.
Once we've built your existing link profile, we can optimize your internal links and begin to increase the number of inbound links from other high-ranking websites that are related to your business or industry.
You might consider each link as an endorsement, with more authoritative websites telling search engines that your website is worth visiting. This is vital to establishing domain authority to help you stand out in the category or industry in which your business operates. 
Perhaps the least glamorous and most labor-intensive part of SEO involves creating high quality, relevant links that point to your website. However, this service is invaluable and we thrive on the challenge.
KEOCH SEO Services implement premium white-hat link building strategies for international, national and local SEO.
Schedule Your Complimentary Consultation
Contact us today to Reserve Your Free Consultation.
Learn how we can help you build seamlessly on what you've already accomplished, even in an increasingly competitive marketplace.